General Overview
The Primo Patented Oval Design
The Patented Oval delivers the highest level of cooking versatility and performance. It creates two distinct cooking zones, so that you can cook directly over the charcoal on one half of the grill and cook indirectly with the use of a deflector. This two-zone cooking method gives you far more control over the doneness of your food. You get the same control with our gas model, the Primo Oval G 420.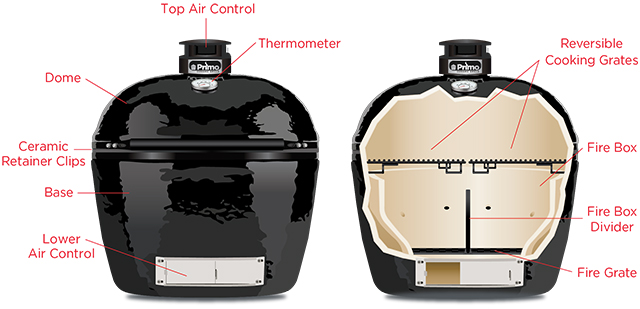 If you've ever tried to grill a steak and vegetables at the same time it's likely that the steak came out fine, but the vegetables came out too charred. Or you had to roast the vegetable first, then keep them warm while you grill the steaks. We ran into the same problem. Now you know why we developed the Primo Oval.
An added benefit of the Primo Oval Design is that it holds more food than round grills. Most food is not round and you can cook out to the edge of the Primo Oval without losing valuable cooking space.
Cooking Configurations
Primo Ceramic Grills can be used as a grill, an oven, a roaster, or a smoker.

Grilling & Searing
Use this configuration for grilling meat such as steaks, chicken breasts, or any foods that benefit from cooking directly over the charcoal fire.

Grilling & Roasting
Use direct and indirect cooking zones to grill meat on the direct side, while roasting tender foods like seafood and vegetables on the indirect side.

Baking, Roasting & Smoking
Use this configuration for indirect cooking such as an oven or smoker. Cook at low to medium temperatures for baking pizza or smoking meat. (Heat Deflectors/Racks required).