Flexibility is the Genius Behind the Primo Design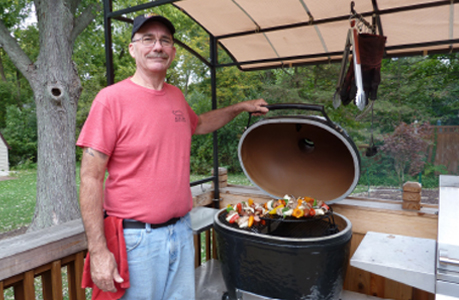 I have always loved grilling. There's something about being outdoors, tending to the grill that I find inherently satisfying and relaxing.
From my first experience in the boy-scouts, cooking French toast over a hot rock, to using a rotisserie to cook chickens in my fireplace (don't try this at home). I've always been an adventurous griller.
Prior to purchasing my Primo Oval XL, I was using a variety of gas grills, including infrared grills. While the gas grills always heated the meat, they left me wanting for more- more flavor, more flexibility, more temperature control, more capacity and most importantly, more of a rich cooking experience.
Several years back, some of my friends bought smokers and got me thinking about my cooking options. After surveying the vast landscape of grill and smoker options, I decided on the Primo Oval XL. The Primo gives me the ability to smoke, grill and bake an unlimited variety of foods. With the Primo, my deck has become my outdoor kitchen, and we actually use it more often than we use our inside kitchen.
We've cooked for two and we've cooked for 25, all on one grill. We've used it to cook homemade pizzas, fish, breads, casseroles and we even fed a graduation party by smoking 42lbs of Boston butts for pulled pork sandwiches. After others have tasted the meals made on my Primo, we have even had several requests to cater parties, which we respectfully declined!
Flexibility is the genius behind the Primo design. I can cook direct, for classic grilling meats and indirect for pizzas, smoking and baking. If cooking for only my wife and myself, I can use the divider and heat half the fire box, but if we have a party I can pull the divider and easily cook for 25-30 people.
Living in Chicagoland presents outdoor cooking enthusiasts with unique challenges, the biggest one being large seasonal temperature swings. With my Primo, outside temperatures don't stop you from using your outdoor kitchen-providing you can handle the cold. The thick ceramic design holds its temperature for hours and because it's so efficient, very little charcoal is needed. This is important when it's -15°F outside and you don't want to run out to constantly check your grill temperature or charcoal supply.
The large amount of information available in the Primo forum and Primo's outstanding customer service have made my years of ownership trouble-free and even helped me find new and exciting ways to use my grill.
Why did I buy a Primo grill? Because I've always loved charcoal grilling, because I love the natural, healthy, salt-free flavor hardwood grilling provides, and I want one device that meets all of my cooking demands.
– R. Conley of Illinois