Neighborhood Attraction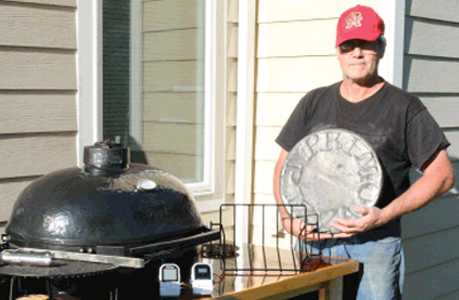 My outdoor cooking story started with a gas grill, but a year and a half ago I came across my first ceramic grill at a friend's house and began the search for my own.
After doing some research, I found that the Primo Oval XL was the largest ceramic grill at the time and came with ratings that put it ahead of the competition.
Since my purchase, I look forward to using the Primo for weekly outdoor cooking year-round. My enthusiasm for outdoor cooking lead to handcrafting a custom table for my Primo, and has grown along with my list of favorite recipes. The Primo has added variety to my methods of cooking; from making pizzas to grilling vegetables, or searing meats at a high temperature to smoking foods for up to 12 hours. The best part of all of these methods is that the Primo keeps the foods flavorful and moist, and has made me a better cook. I have learned to cook by temperature rather than by time, which makes the Primo Remote Thermometer an essential tool. I also find myself and guests getting second and third servings. What took 12 hours to cook is gone in less than an hour.
When I start smoking meats early in the morning, the neighbors know who's cooking and stop by to see what I'm making. Some have even put their own grills aside and brought their orders to me – including two Thanksgiving turkeys last year. If any one of them were to consider a ceramic grill, I would encourage them to purchase a Primo by noting the superior cooking capabilities over a traditional gas grill as well as the difference the Primo makes in the taste of food.
– D. Young of Maryland