The Thrill to Grill with Primo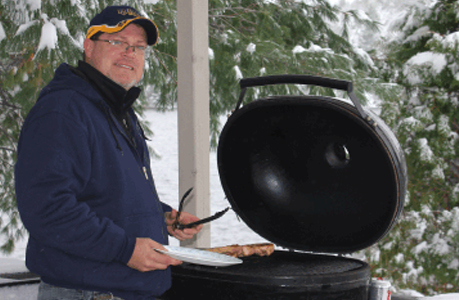 Food is an extremely social and important staple in our home. In fact my husband and his younger brother spend more time exchanging food pictures through email than sharing pictures of their beautiful wives.
A decade ago, my brother-in-law invested in a ceramic cooker and was quite passionate over his cooking appliance. Lengthy debates and discussions ensued around the quality and superiority of the ceramic cooker versus the 'good ole' Broil King gas BBQ. My husband began to research all ceramic cookers and was convincingly drawn to the Primo.
He sold me on the idea that this appliance had the versatility we required as a family that loved and enjoyed entertaining. Pulled pork, ribs, burgers and jalapeno poppers...for four people, 20 people and even for my 40th Birthday party. Friends and family have shared in our enjoyment of food and have even had an opportunity to take some leftovers home.
My children and I are fortunate to have such a passionate man, father and husband manning this grill. The attached pictures are set on October 31st, 2014, the first snowfall of the season. Nothing will stop my husband when the thrill to grill takes over.
– K. Irving of Canada