Tuffy "The Professor" Stone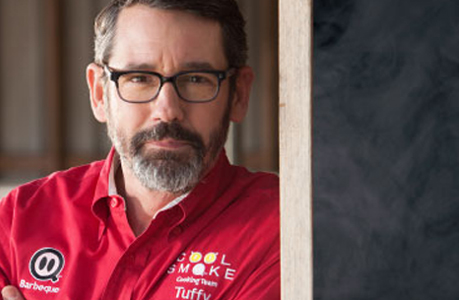 Tuffy "The Professor" Stone brings his award-winning competition barbecue skills to the Primo family. Tuffy will also be integrating Primo into his intensive Cool Smoke BBQ cook school in Richmond, Virginia as well as demonstrating a Primo Ceramic Grill at events and while he tours the nation on the competition barbecue circuit.
We congratulate Tuffy on being the only 3-time Grand Champion of The Jack Daniel's World Championship Invitational Barbecue with his recent win in 2016. He is also the first back-to-back Grand Champion of the "The Jack" having won the title in 2015.
"I have been a fan of the Primo brand for years now so this partnership feels like a natural next step," shared Stone. "Primo Grills are produced just outside of Atlanta in Tucker, Georgia and I have truly enjoyed spending time with the Primo folks and seeing their production line first hand. I'm proud to represent this product and I look forward to sharing Primo with my family, friends and fans."
Follow Tuffy "the Professor" Stone