We Are Primo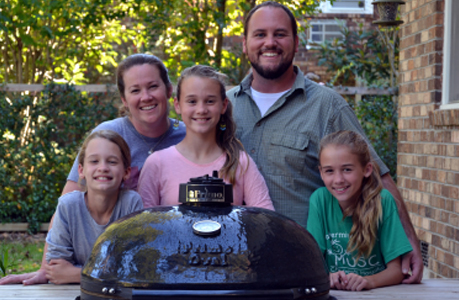 My grilling began on a gas grill. But I quickly realized the lack of real flavor had nothing to do with my ability to apply seasoning and everything to do with gas.
So I ditched the gas, bought the cheapest charcoal grill I could find, and fell in love with cooking over wood.
I quickly upgraded to a Brinkmann horizontal grill that I rescued from the rubble of Hurricane Katrina while in Gulfport, MS on a mission trip. Our worksite was soon to be bulldozed so instead of the grill being pushed into the giant pile of debris, the homeowners said I could have it. "Mr. Draper's Grill", as my family fondly referred to it, worked hard for us for many years until the rust was finally too much to overcome.
With the retirement of "Mr. Draper's Grill" came my introduction to Kamado cooking. I purchased a Char-Griller Akorn and my family and I began cooking everything on it. Cooking food in the backyard became what my family and I did together at least four nights a week. We even cooked our entire Thanksgiving dinner on it, pumpkin and pecan pie included! The best part about it was, we were doing it together as a family.
Then last Christmas I received the biggest surprise of my life. We had long since outgrown the Akorn and I really wanted to upgrade. I did my research and knew the oval shape and variety of rack and deflector plate configurations of the Primo Oval XL would take our outdoor cooking to the next level.
I dropped hints here and there but really didn't think my wife was listening. And then Christmas morning, as we were looking in our stockings, I noticed a cutout picture of an Primo Oval XL and that's when my daughters told me to go and look in the driveway. Truly the best Christmas ever!
The versatility of the Oval XL is what makes cooking on it so much fun. Whether we are baking pizzas, cooking nachos, smoking meatloaf or reverse searing steaks. My wife and triplet daughters and I spend more time together because we enjoy cooking on the Primo together. Therefore it's not really "I Am Primo" but more importantly, "We Are Primo."
– C. Sarkowski of South Carolina