No More Gas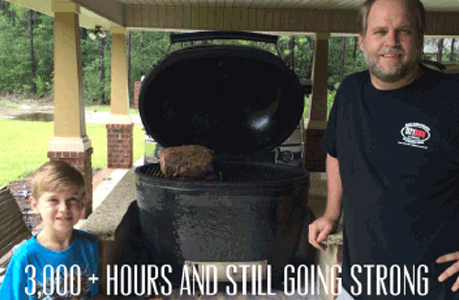 I was raised on a 500 acre farm. After my Dad returned from Vietnam, he returned to farming and as you can imagine, my dad was country to the bone.
My brothers and I grew up watching him cook on homemade grills and smokers. Usually they were made out of 50 gallon metal drums. He introduced me to smoked mullet and Tony Chachere's seasoning. I can't count the times we smoked mullet, along with leg quarters.
The first time I saw a ceramic grill was about 12 years ago, when my boss at the time bought a Primo Oval XL. We often talked about grilling and he knew I was a looking for the best grill. At the time, I was using a gas Weber and a Master Built electric smoker. My boss kept telling about his new type of grill and how it would hold the temperature, and both grill and smoke. Finally, he invited me over for a steak. After watching the temperature go from 500°F to 250°F in a matter of minutes, and eating the best steak in my life, I was hooked.
I saved my money for several months to buy the new black beauty. Finally, I made my purchase–Primo Oval XL, along with a cypress table. Everyone that already owned a Primo said, "You have to try a butt!", so that was the first thing I cooked. My dad and brother came over to help me break in my Primo.
My dad, never one to try "new fangled contraptions," was sitting there saying there was no way this thing would cook better than his smoker, and my brother stated emphatically he would just stick with his good ole' gas grill. I just smiled and let them talk, then without comment I pulled the butt off of the Primo. The bone just ripped out of the meat just like a butter knife going through butter. My dad and brother couldn't believe it! Best pork they have ever had. It took only about a month before my brother had a new Primo-no more gas.
I'm pretty sure, this was the best sale in Primo's history. My Dad purchased a Primo-no more homemade barrel smokers. After two years of using his Primo and loving every experience, my father suddenly passed away from a heart attack.
My brother and I had to decide what to do with his things. We had no idea know what to do with his prized grill, since we both owned one. My sister-in law told us that about a month before his death, Daddy told her that when he died he wanted his Primo to go to a fellow he worked with and really liked named Johnny. My brother and I had heard Johnny rave about my dad's Primo hot wings, and we knew Johnny couldn't afford a Primo on his own at the time. We invited him over without telling him why, and walked out to where Daddy kept his Primo. We patted his back and said, "Johnny, load the Primo up. It's yours." Johnny just broke down sobbing.
– P.R. Brock of Florida