Fond Memories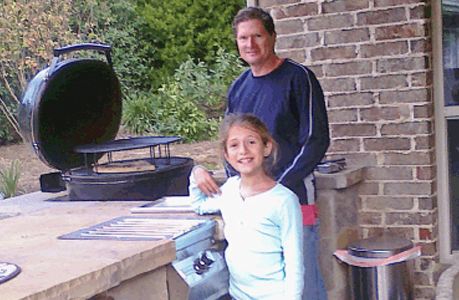 My idea of cooking was to pop a stouffer's into the microwave. Needless to say, after getting married my wife did almost all the cooking until October of 2010.
We were building a pool for the kids, so being from Texas it is basically a requirement to also have a grill, and my wife challenged me to pick one out and learn how to use it.
I went to numerous BBQ stores, researched the internet, and came across the Primo, which had great reviews and I loved the large size and the idea of using lump charcoal. I found Marvin, a local Primo Dealer in Ft. Worth, and he told us to bring over our favorite cut of meat and he would cook it for us.
After meeting Marvin and trying the food he prepared, we were sold and took a Primo Oval XL home that day. Since the first time I cooked on my Primo Oval XL, I have received rave reviews and you almost can't mess up as long as you don't overcook. Our kids liked my food better than mom's!
In May of 2011, our 11 year-old daughter Sydney was diagnosed with DIPG, a terminal childhood brain tumor. While on Radiation and Chemo, Sydney only wanted food (mainly her favorite, tri-tip) grilled or smoked on the Primo. I was able to spend much more quality time with Sydney over the 13 months she fought her tumor by being able to put the food on the grill, and just leave it until it was ready to take off.
Every time I cook on the Primo, I tear up thinking of my beautiful daughter and how much she loved the food I prepared on it. Love and miss you so much Sydney.
– S. Bjornberg of Texas