KCBS Judge on Primo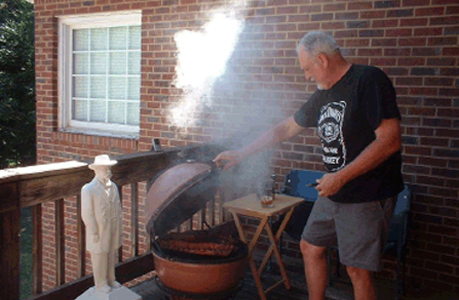 When talking to my brother a few years back about making a smoker out of some large clay pots, he informed me that he had an old Primo.
Our family was in the propane business and had obtained the Primo as part of their grill offerings. I brought the old Primo home, then made the journey to your old factory in Norcross, Georgia. I customized an exiting model's handle assembly to replace my broken one and I was in business.
Since, then I have experienced some of the best smoked and grilled meats that I have ever cooked. I am a KCBS Master BBQ judge and I am now able to cook competition quality BBQ for friends and family. I have mostly cooked on gas grills over the last 40 years and am now a true beleiver in how much better my food can be with a Primo. Attached is a photo of my old Primo as I was getting ready to judge the Jack Daniels Invitation in 2011.
– J. Corbin of Georgia