Primo Ceramic GrillsX-Large Gas Primo
About this Grill
The X-Large Gas transcends standard gas grills by integrating a premium grade ceramic shell. Unlike metal gas grills that radiate high amounts of heat and pull the moisture out of food, the ceramic shell acts as an insulator to retain more heat and preserve the natural moisture and oils of the food. The assembled grill features premium grade ceramics, stainless steel cooking grates, burners, flavor grids, exterior and components. The cart features brushed aluminum handles with a powder coated steel exterior and locking casters. Every Primo is built for years of use and enjoyment.
Select from multiple installation options to find the best fit for you! Choose from a Primo cart, cradle, table or All-In-One package to complete your grill purchase. The All-In-One package comes with the grill head, an ergonomic handle, cradle stand, side tables, ash tool, and grate lifter.
Grill Specifications
Cooking Area:420 sq in. | 2,710cm2
Total Cooking Area:615 sq in | 3,968 sq cm
Temperature Range:220 - 650 F+ | 104 - 343 C+
Optional Rack System:195 sq. in. | 1,258cm2
BTU Per Hour:21,000 | (4) Burners
Grilling Capacity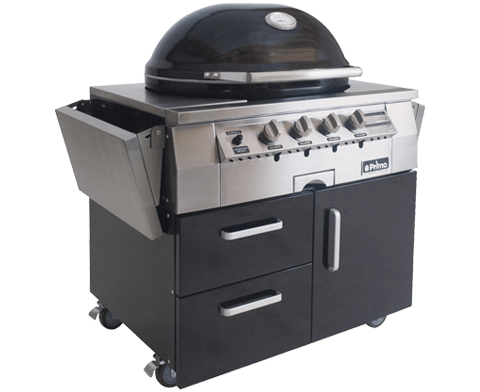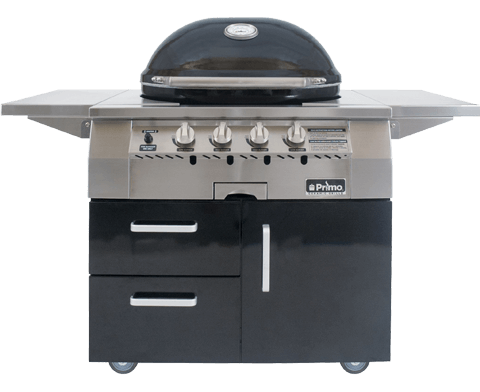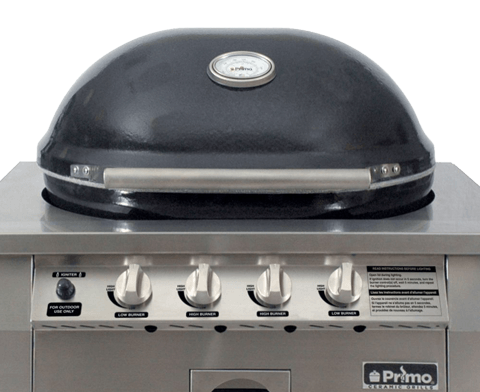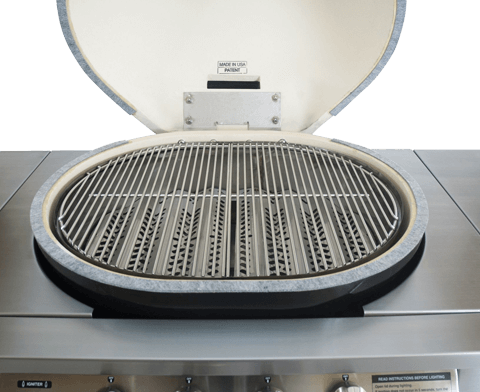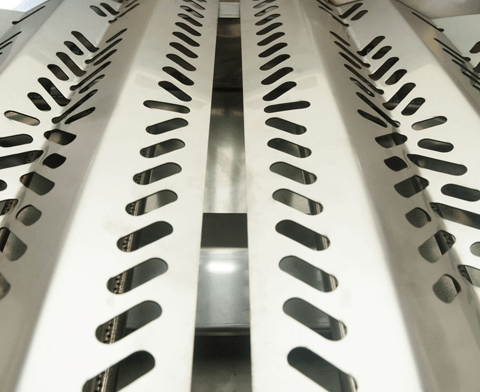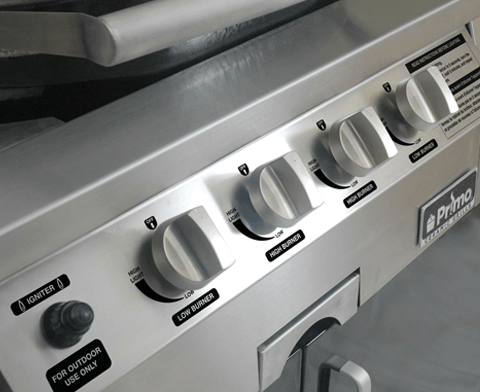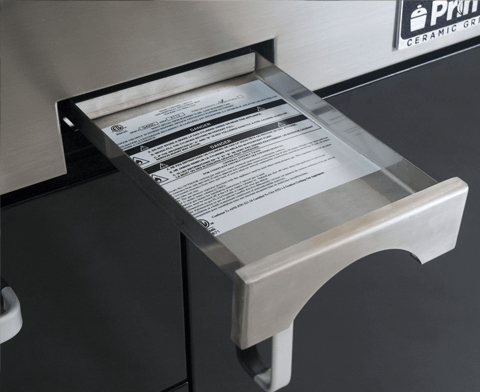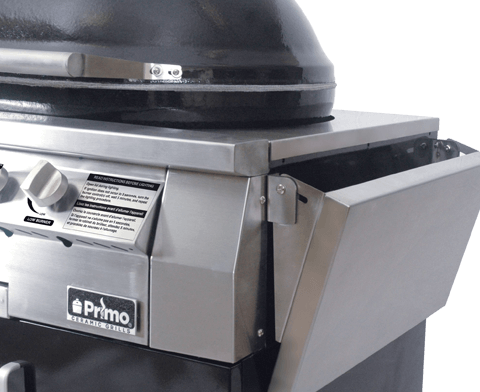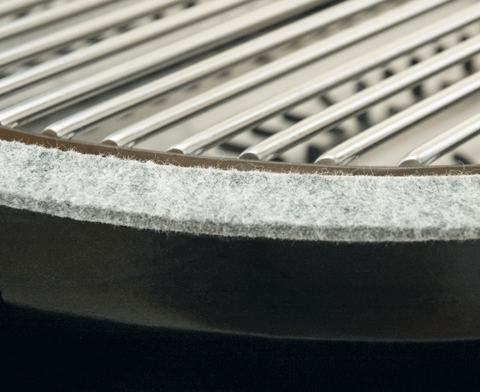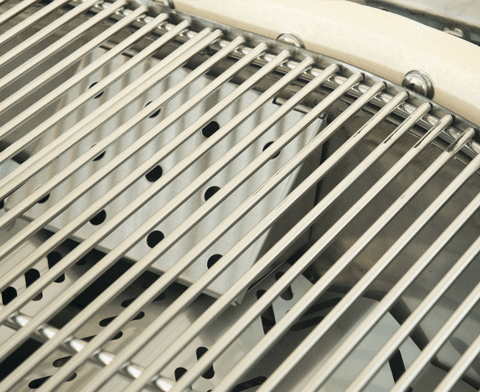 What You'll NeedEverything You Need for Your Grill
All In One
Everything you need to get started in one box!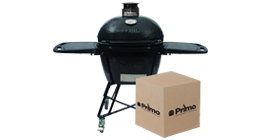 Carts & Tables
Hand-made tables that are designed for durability and beauty.
Accessories
Primo offers a wide variety of accessories so you can ensure your food tastes great!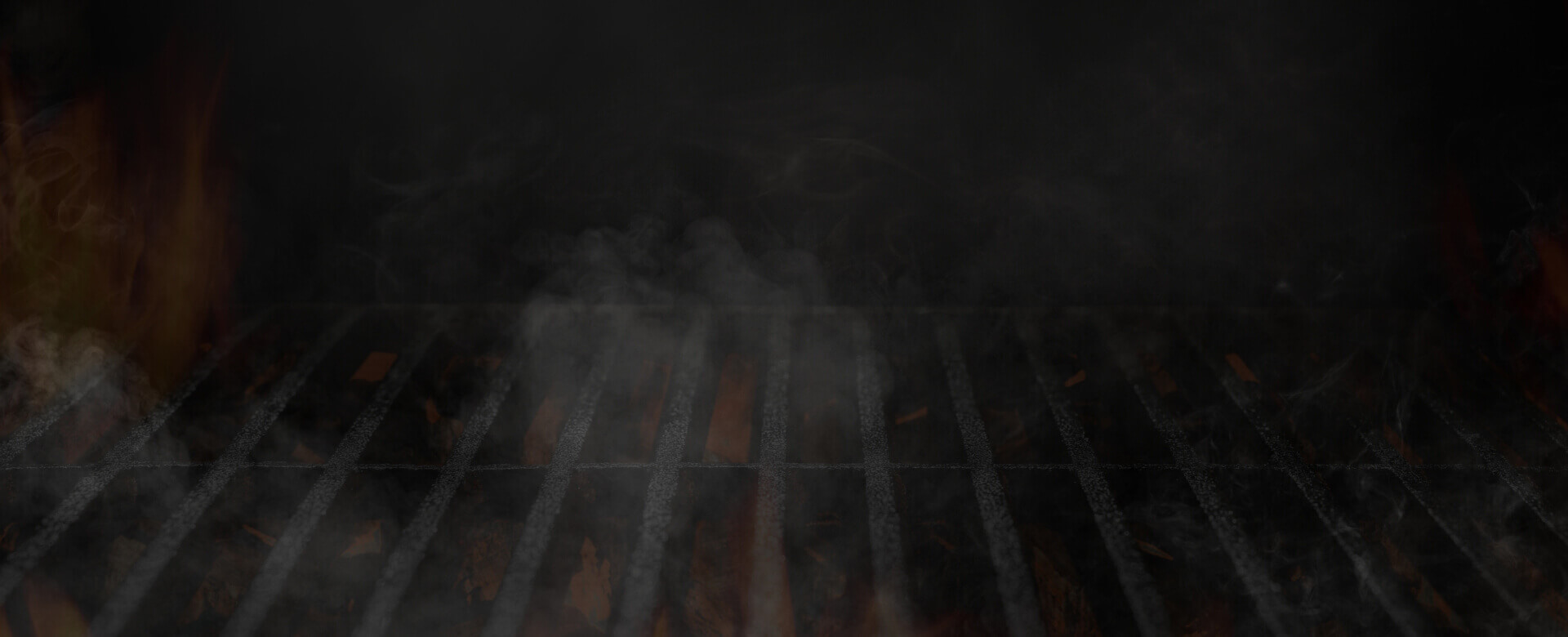 Why Go Primo?The Science Behind Primo's Patented Oval Design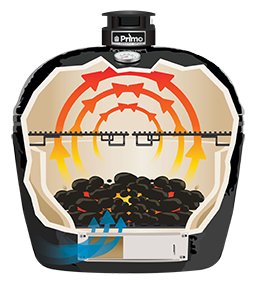 1
Grilling & Searing
Direct Cooking | One Zone
Use this configuration for grilling meat such as steaks, chicken breasts, or any foods that benefit from cooking directly over the charcoal fire.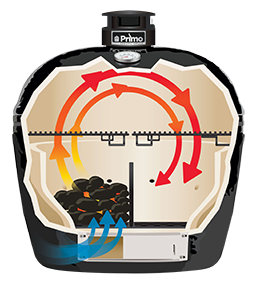 2
Grilling & Roasting
Direct & Indirect Cooking | Two Zones
Use direct and indirect cooking zones to grill meat on the direct side, while roasting tender foods like seafood and vegetables on the indirect side.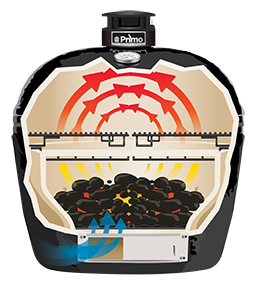 3
Baking, Roasting & Smoking
Indirect Cooking | One Zone
Use this configuration for indirect cooking such as an oven or smoker. Cook at low to medium temperatures for baking pizza or smoking meat. (Heat Deflectors/Racks Required)

Where to Buy