Boatright's Seared Porterhouse & Shrimp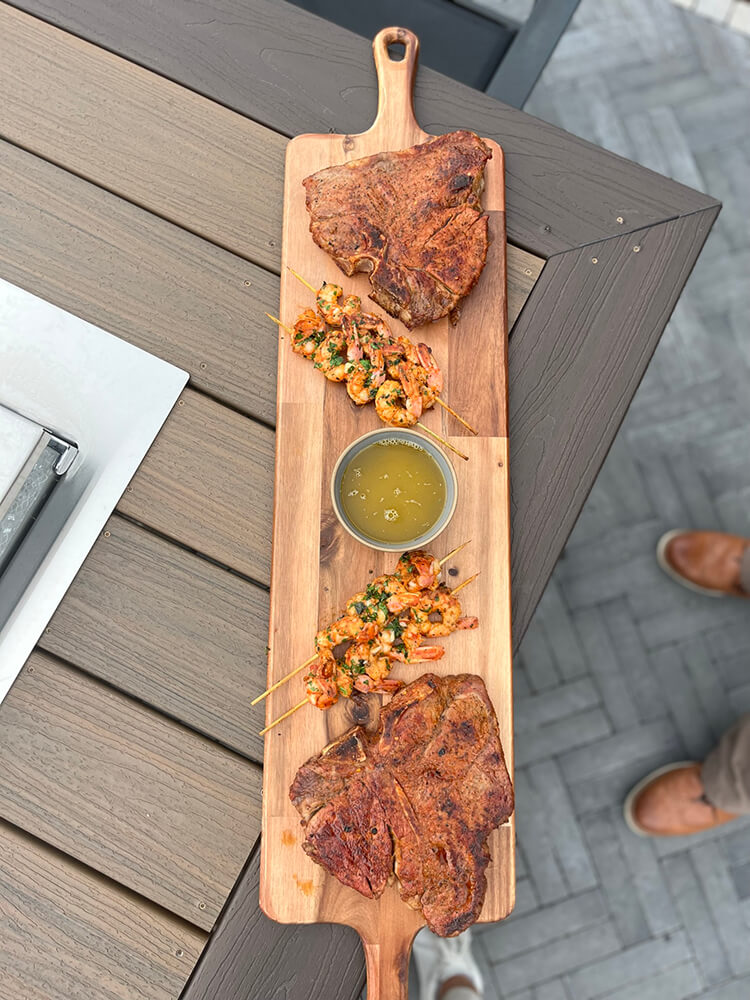 Come along with James Boatright as he sears us some juicy porterhouse steaks alongside succulent shrimp
The Ingredients
For 2 Persons
2 porterhouse steaks
1 lb EZ-peel shrimp, raw, deveined, tail-on
Chimichurri
Your favorite beef rub
Olive oil
Cajun seasoning
Butter
Instructions
Remove steak from the refrigerator and place on the counter for 1 hour, bringing to room temperature.
While steak is coming to temperature, preheat your Primo Ceramic Grill to 250°F and stabilize.
Coat steak in thin layer of olive oil
Season steak with your favorite rub, coating liberally on both sides. Rub the seasoning into the steak.
Place steak on your Primo over indirect heat for 35 minutes or until steak is 10 degrees from your desired internal temperature. For a medium rare steak, you would remove at 120-125°F.
Remove steak and wrap in aluminum foil and set aside.
With Primo Grill already at 250°F, place your Primo griddle on the grill.
Remove shell from your EZ peel jumbo shrimp
Season shrimp with a light Cajun seasoning (mores seasoning will be added with the butter sauce)
Place shrimp on bamboo skewers for easy flipping
Lay your shrimp skewers on your Primo Griddle and let cook for approximately 3 minutes on each side, brushing on your butter sauce as you cook
When done, remove, plate and cover with aluminum foil. Set aside to be served with the steak
Open up your vents all the way to get the grill to 450°F
You have two options for searing your steak:

Use grill grates to sear and get those beautiful grill marks
Use your Primo Griddle for a wonderful sear

Bring to desired doneness and (130-135°F for a medium-rare steak)
Top with Chimichurri sauce. Dig in and enjoy!
Recipes You Might Also Like