Smoked Spatchcock Chicken
Why spatchcock a chicken? A flattened chicken has more surface area exposed, which allows the meat to cook quickly, evenly, and absorb more seasoning and smoke. A whole chicken can be flattened simply by removing the backbone.
The Ingredients
For 5 Persons
1 5-6 lb whole chicken
Canola oil in spray bottle or cooking oil spray
2 tbsp coarse kosher salt
1.5 tbsp smoked sweet paprika
1.5 tbsp ground coriander
1.5 tbsp turbinado sugar
3/4 tbsp coarsely ground black pepper
3/4 tbsp granulated garlic
1.5 tsp granulated onion
Optional Side & Garnish
3 squash of choice such as butternut, acorn, delicata, kabocha
1-2 oranges, sliced.
Fresh herbs for garnish: sage and/or rosemary
2 tablespoons agave syrup
1 whole lime, sliced in half
Preparation Instructions
Prepare the Chicken: Remove any giblets from the cavity of the chicken. Place chicken on a large cutting board and pat dry with a paper towel. Flip chicken, breast-side down. Use kitchen shears to cut along one side of the chicken spine then cut other side of spine. Cut and remove the v-shaped sternum, at the tail end of the breastbone. Discard the backbone and the sternum. Invert the chicken to breast-side up and press the breast bone to completely flatten.
Prepare Spatchcock Chicken Rub: Mix all rub ingredients in a small bowl. Using a small rubber spatula to separate the chicken skin from the flesh, season chicken with rub under the skin and on all sides of outer skin. Leave chicken on cutting board, cover, and set on counter until ready to grill.
Prepare the Squash (optional): Microwave squash, one at a time, on high for 2-3 minutes to soften enough to cut. Scrape seeds out with a spoon. Cut squash into halves or into pieces, about 3-inches x 2-inches. Place squash skin-down on rimmed baking sheet. Season with salt and pepper and top with orange slices. Squash pieces cook in about 40 minutes. Butternut squash, cut into halves, will cook in about 60 minutes. Do not cover squash for optimum smoky flavor. Set aside and prepare the grill.
Grill Preparation: Fill one half of the fire box with Primo Lump Charcoal. Wedge 1 or 2 Primo Quick Light starter cubes in the charcoal, and light on fire. - Wait 5-10 minutes for the charcoal to build a small bed of embers. - Close the dome, and fully open the draft door on the bottom. Adjust the top vent as the thermometer begins to reach 275°F. Once the temperature has reached 300°F, close the top vent to one-third open. Wait 1-2 minutes for the temperature to stabilize. Increase or decrease the airflow on the top vent as needed to retain 325°F. A 1/4" move can change the temperature by as much as 25°F. The ideal temperature for spatchcock chicken is 325°F.
Cooking Instructions
Set up the grill for indirect cooking (coals on one side and nothing on the other) and heat to 325°F. Place the grill grates at the highest level.
Place the rimmed pan with squash and oranges over direct heat. Place the chicken over indirect heat, with the chicken legs pointing towards the heat and the chicken breast near the outer rim of the grill. Close dome. You may have to rotate the chicken if the breasts take a little too long to finish.
Check for squash tenderness with a fork after 40 minutes. Cook the chicken for 65 minutes before checking internal temperature. The chicken is done when the internal temperature of the chicken breast is 160°F, and the chicken legs temperature is around 175°F to 180°F. Remove chicken from grill, drizzle with agave syrup and lime juice, cover, and rest for at least 20-30 minutes. Drizzle agave, orange juice, and lime juice over squash.
Slice chicken and season with salt, if needed. Garnish with fresh herbs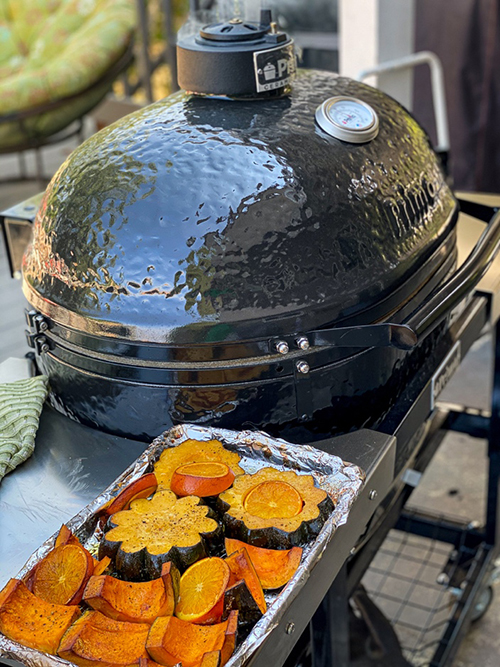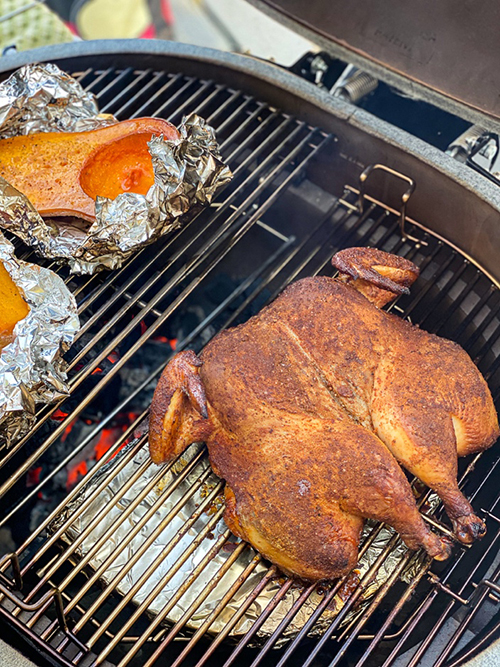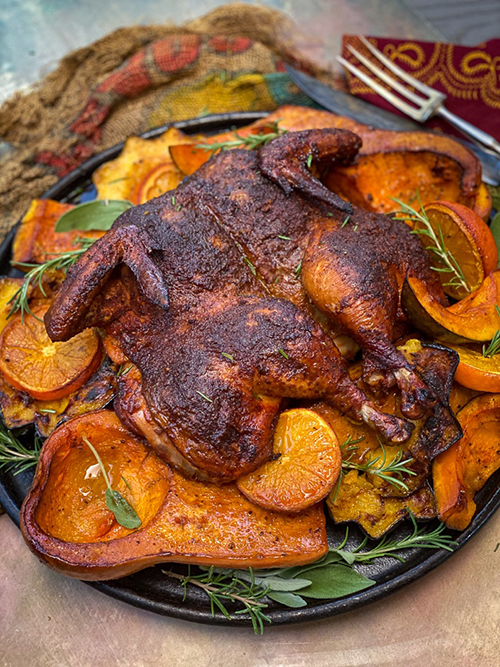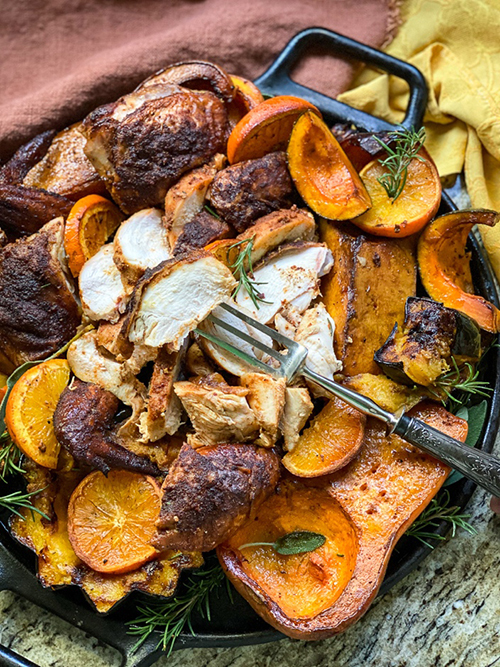 Recipes You Might Also Like