Smoked Meatball Stuffed Super-Bowls
These super bowls are the perfect addition for a big game. These super bread bowls with smoked meat balls make for an awesome appetizer when hosting guests.
You Will Need: Primo Heat Deflector Racks · Primo Ceramic Heat Deflector Plates
We Also Suggest: Primo Lump Charcoal · 2 pecan (3-inch) wood chunks · Primo QuickLights Fire Starters
Recipe provided by friend of Primo, Merry Graham.
The Ingredients
For 12 Persons
16 oz ground beef
12-16 oz ground pork
1/2 cup Panko bread crumbs
1 1/2 teaspoon pink Himalayan salt
1/2 teaspoon sweet smoked paprika
1/2 teaspoon crushed red pepper flakes
1/2 teaspoon ground black pepper
Zest from one lemon, optional
1/2 cup ricotta cheese
1/3 cup refrigerated pesto
1/4 cup whole or 2% milk
2 large egg yolks
1/2 cup shredded mozzarella, store bought or hand grated
32 oz marinara or arrabbiata pasta sauce
8-12 oz mozzarella ball, cut in 14-16 slices
1/4 cup shredded Parmesan cheese, store bought or hand grated
1/4 cup minced fresh parsley
16 French or mini submarine rolls, cut center hole and hollow slightly
Preparation Instructions
Break up ground beef and pork and place on a small rimmed baking sheet.
Combine Panko, salt, paprika, red pepper flakes, black pepper, and lemon zest. Sprinkle crumb mixture over ground meat and lightly mix.
Combine ricotta, pesto, milk, and egg yolks. Pour over seasoned ground meat then sprinkle with shredded mozzarella cheese and lightly mix.
Use a 1/3-cup measuring cup to form 15 meatballs. For best results cover and place in refrigerator 30 minutes or up until 5 hours.
Cut mozzarella ball in about 1/8-inch wide slices. Grate Parmesan cheese. Mince parsley.
Hollow out the inside center of each roll, leaving at least 1/4-inch rim.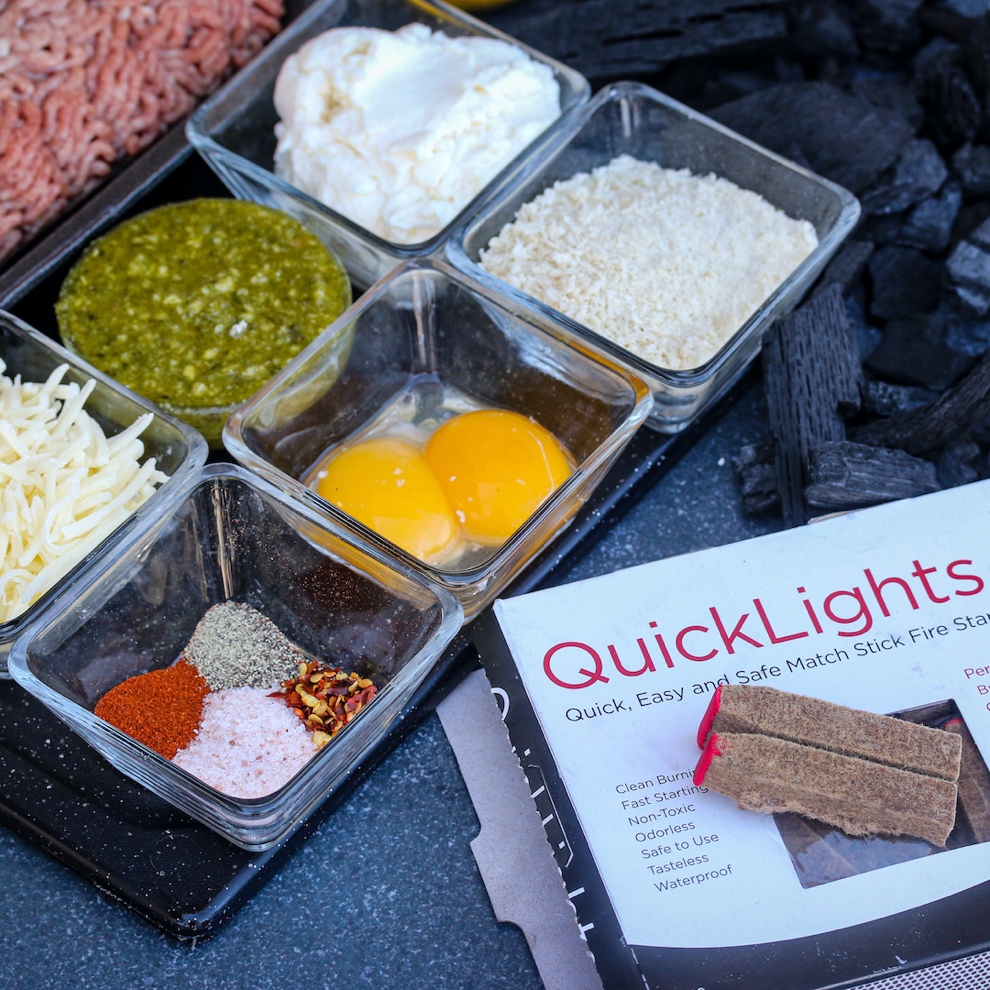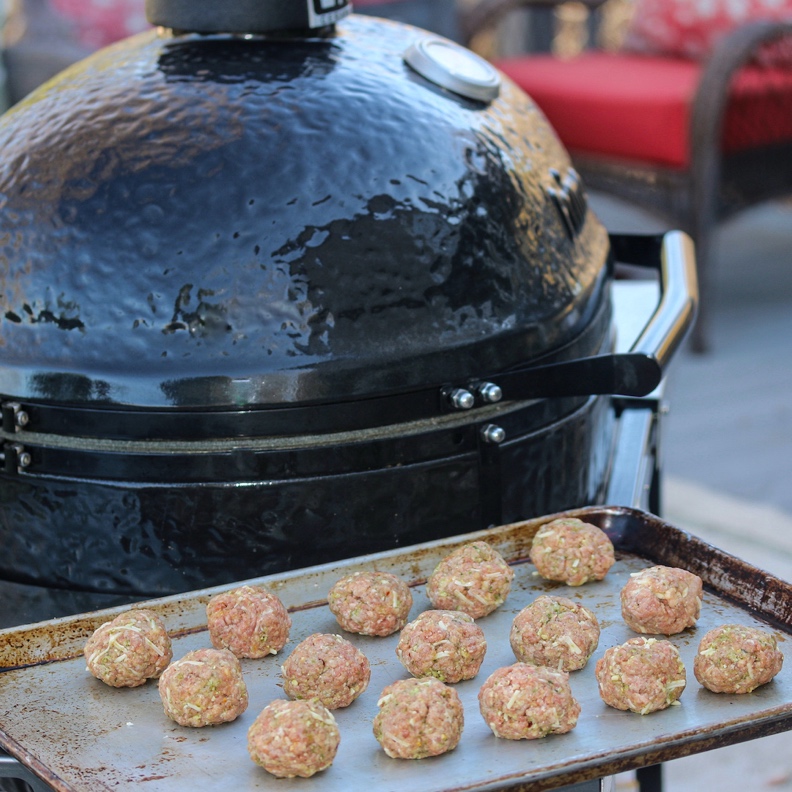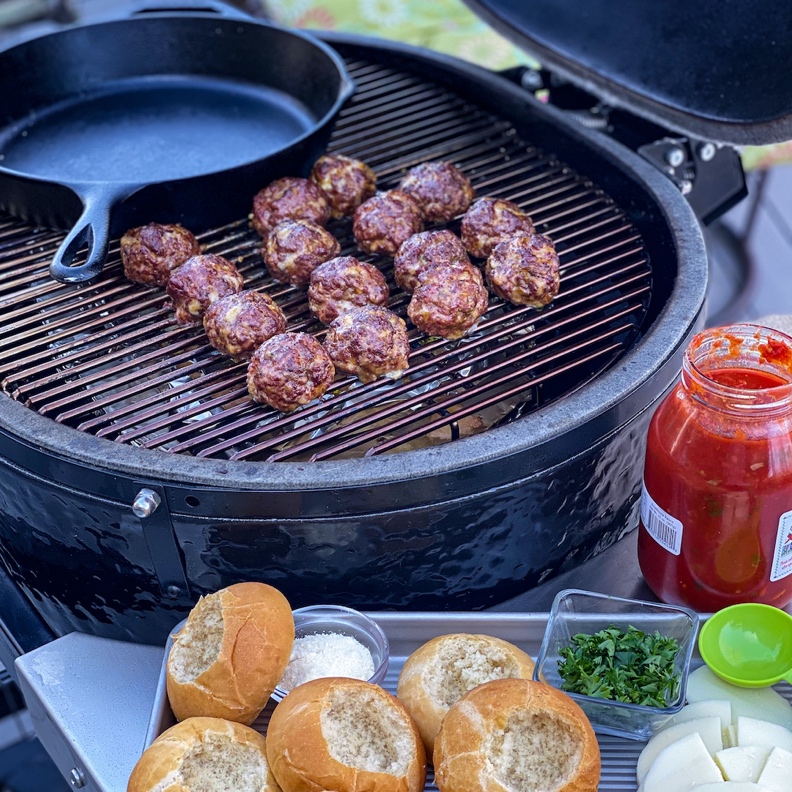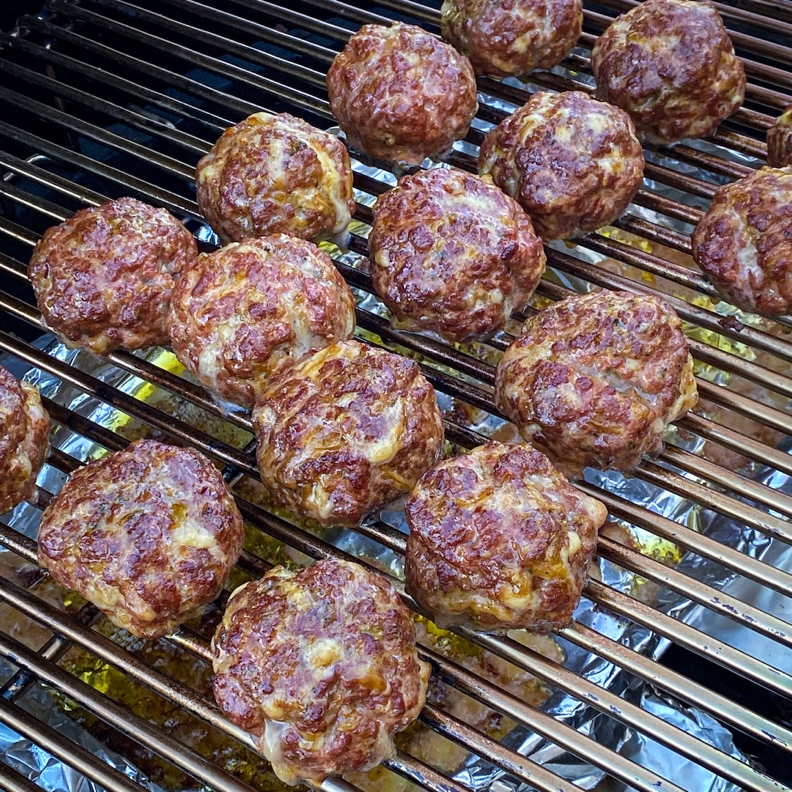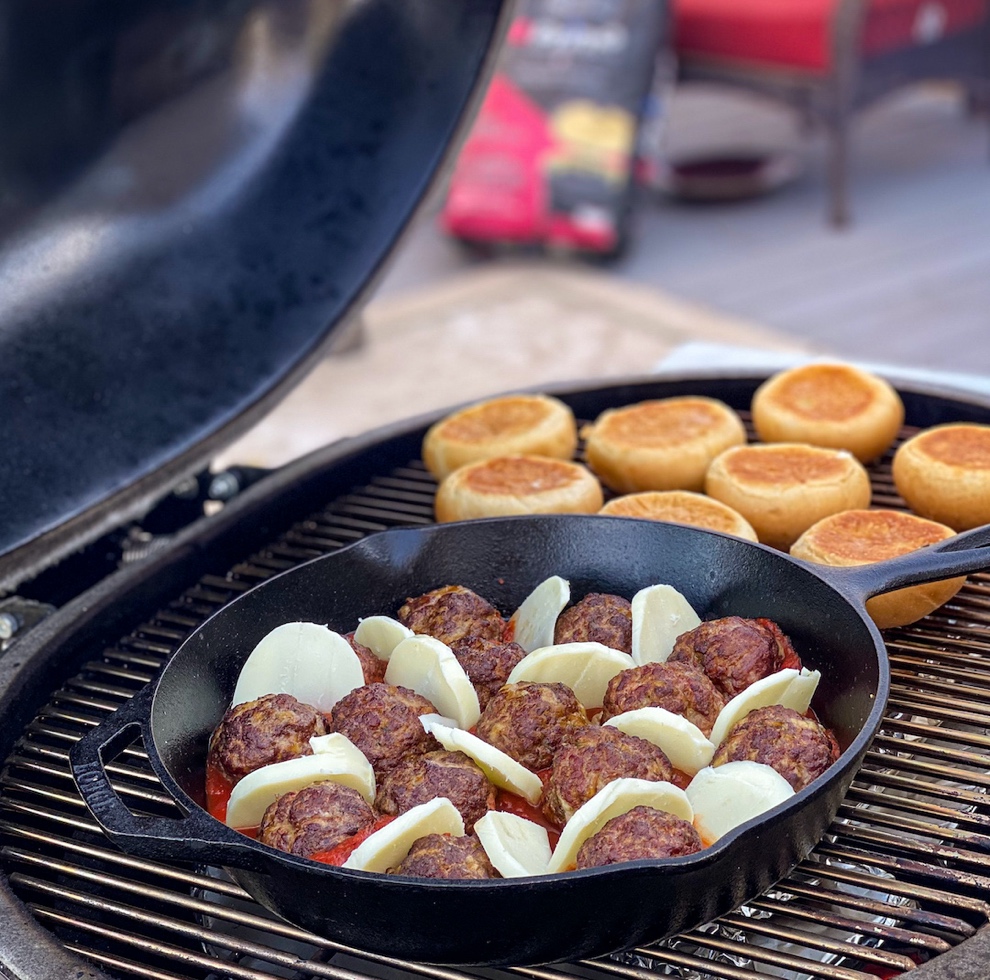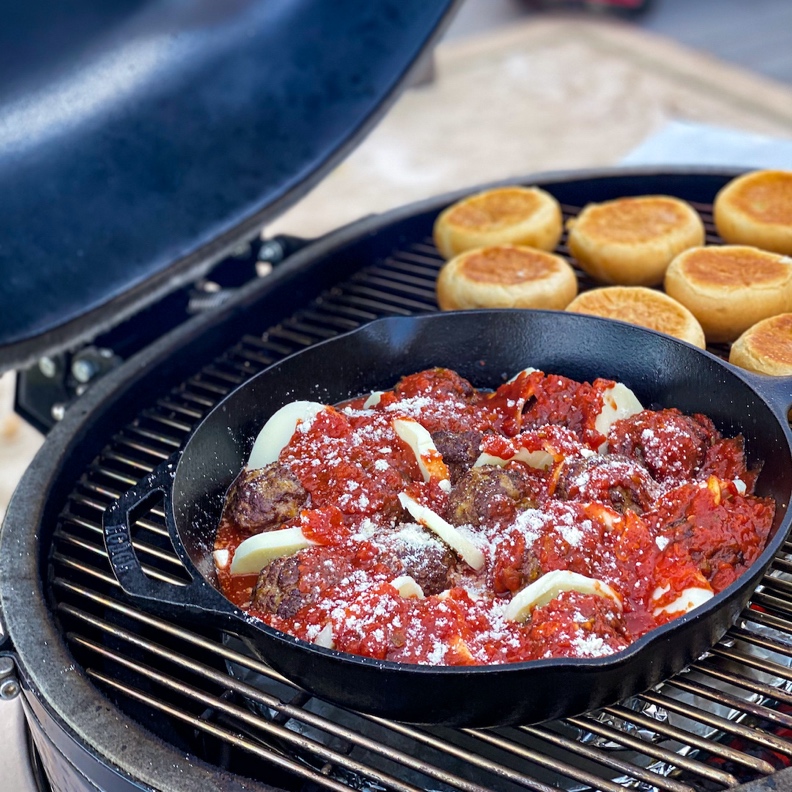 Cooking Instructions
Use a full load of Primo Lump Charcoal. Light the charcoal with one or two fire starter cubes and leave the dome open. Place 2 pecan wood chunks at different ends of the lump charcoal. Wait 5-8 minutes for the charcoal to build a small bed of embers.
Invert Primo Heat Deflector Racks to the lowest position above the embers. Wrap the Primo Ceramic Heat Deflector Plates in aluminum foil and place on deflector racks. To catch fat and juices from meatballs, position a shallow aluminum pan or homemade rimmed foil drip pan on top of the deflector plate, directly under the grilling surface. Place grilling racks on the highest position.
After small embers can be seen, close the dome with the bottom draft door and top vent fully open. Allow the temperature to reach 250°F then set the draft door to 1/2-inch open and the top vent to 1/2-inch open with the daisy wheel holes fully open. Adjust the top vent as needed to maintain the target temperature of 275°F.
Open the dome. Brush the grill grates with cooking oil. Place the meatballs in the center of the grilling surface, over the drip pan.
Smoke meatballs for 30-45 minutes at 275°F, or until the internal temperature of the meatballs reaches 150°F to 155°F.
Pour half of the pasta sauce into a large cast iron skillet. Transfer the meatballs into the skillet. Spoon sauce over meatballs. Arrange mozzarella slices in between meatballs.
Pour remaining pasta sauce over meatballs and cheese.
Increase heat in grill to 300°F by opening the bottom and top vents half way. Smoke meatballs in sauce, with the dome down, for 10-15 minutes or longer. Meatballs are ready to eat once the internal temperature of the meatballs reaches 165°F.
Open dome and grill rolls, cut side down, for a few minutes to warm and lightly brown.
Spoon pasta and cheese into the super-bowl sub roll and top with a meatball. Sprinkle with parsley and parmesan cheese. Serve warm.
Recipes You Might Also Like